Deltares is an independent institute for applied research in the field of water and subsurface. Throughout the world, we work on smart solutions, innovations and applications for people, environment and society.
From the perspective of water, the subsurface and infrastructure, we will be working on four Mission Areas in which we set out our contributions to the international and Dutch agendas and tasks: Future deltas, Sustainable deltas, Safe deltas and Resilient infrastructure.
Managing densely populated and vulnerable areas is complex, which is why we work closely with governments, businesses, other research institutes, universities and NGO's at home and abroad.
Our mission is Enabling Delta Life. As an applied research institute, the success of Deltares can be measured in the extent to which our expert knowledge can be used in and for society. For Deltares the quality of our expertise and advice comes first.
All contracts and projects, whether financed privately or from strategic research budgets, contribute to the consolidation of our knowledge base. Furthermore, we believe in openness and transparency, as is evident from the free availability of our software and models. Open source works is our firm conviction. Deltares is a not-for-profit organisation, employs 850 people, 42 different nationalities and is based in Delft and Utrecht.
https://www.deltares.nl/en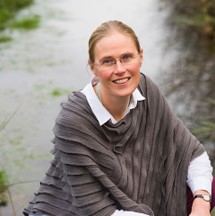 Dr. Ellis Penning is an expert in the field of Nature Based Solutions and ecohydraulic research. She leads the Deltares research programme on Nature Based Solutions and carries out a variety of projects related to this subject. An ecologist by training, Ellis Penning is specifically focussing on the role of vegetation in aquatic systems, both from a flood risk and environmental quality point of view.
Providing new evidence via measured data from both field and flume experiments on the interaction between vegetation and its surrounding environment helps to create a better understanding and provide the basis for better management of these systems. The linking of this experimental data with new model developments for predicting the impact of vegetation for both flood risk management and environmental quality is a key aspect of her work. She is the Deltares project lead for various projects that specifically provide this linkage, such as the Ecoshape Pilot on Vegetated Sandy Foreshores along the Houtribdijk in the large shallow Lake Markermeer and the project on the assessment of the role of woody floodplain vegetation in reducting wave impact on the dikes along parts of the Rhine riverEllis Penning active in various EU projects such as the MARS and Hydralab projects and has extensive experience in international cooperation both in Europe and Asia. At present she is the co-chair of the International Steering Committee of the River Experiment Centre of the Korean Institute of Civil Engineering and Building Technology and leads the Deltares contribution to the joint project on vegetated flows in this unique large outdoor flume facility.