In the relatively recent and rapidly expanding Water-Energy-Food-Ecosystems-Climate Nexus research agenda, collaboration is key to foster innovation and build momentum for winning best-practices. As more REXUS results are validated by stakeholders and finalised, we are reaching out to sister EU-funded projects to exploit synergies, with the aim of promoting knowledge sharing, learning from experiences, and collectively addressing challenges in implementing Nexus projects.
This first cross-fertilization meeting took place on Thursday 13 July with the PRIMA LENSES project, aiming to establish the first building blocks for a supportive Community of Practice, where leaders from different case studies within sister projects may contribute to each other's success.
The meeting began with an ice breaker-activity, using Mentimeter questions to share insights, experiences, and methodologies related to the Nexus concept. This allowed for a first exploration of common threads and differences among demonstration cases.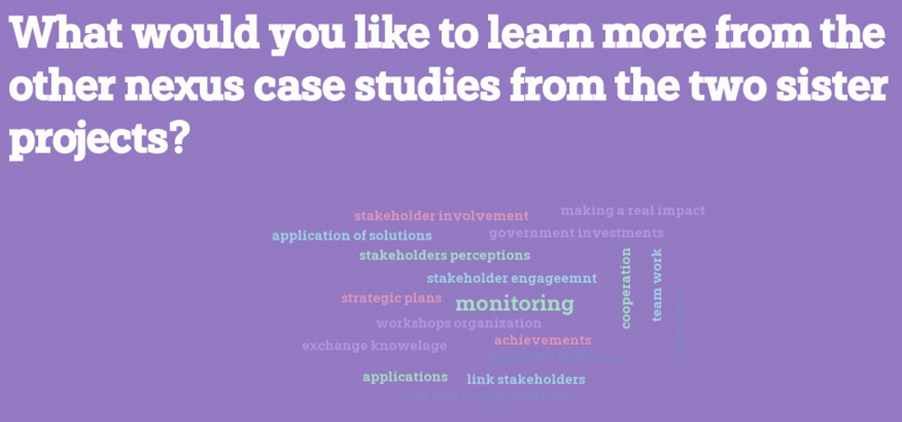 The discussion moved on to the methodologies employed in the demo cases, emphasizing stakeholder input and co-production of solutions, with all pilots using innovative approaches to stakeholder engagement and enhancing collaboration in science. Nevertheless, challenges were acknowledged, particularly those related to dealing with unequal power dynamics in stakeholder representation. Participants discussed openly their perceptions and experiences, providing support and innovative strategies to overcome these challenges.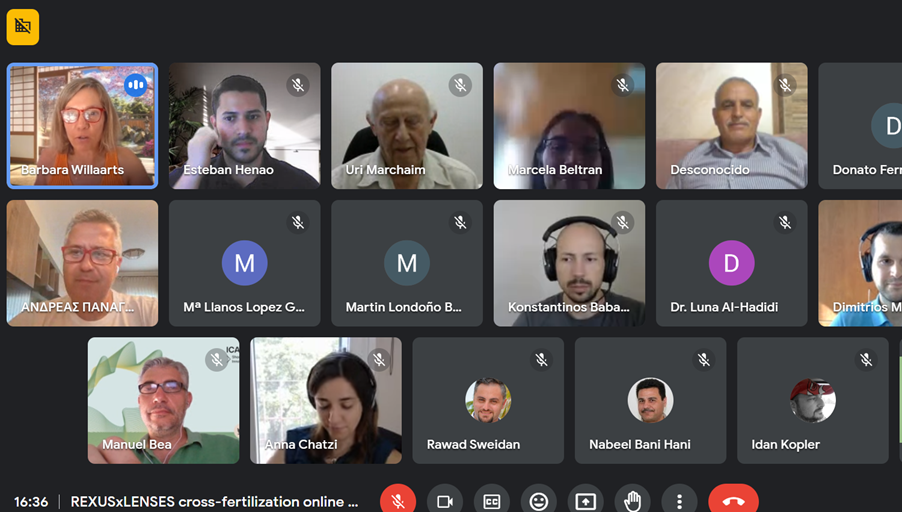 A brainstorming session focused on envisioning the long-term impact and potential legacy of projects beyond scientific outcomes. Participants discussed how to best promote exploitation of results, considering areas of study and associated expectations. It was considered that the projects would benefit from inviting stakeholders from the demo cases to join this discussion in order to get a first hand account of how useful the project results are to them, whether they can be adopted and upscaled, and what obstacles they perceive in this respect.
The emerging Community of Practice from the cross-fertilisation with REXUS sister projects will continue to provide a platform for valuable exchanges, inspiring sustainable solutions. As these meetings progress, we anticipate further growth and success, leading to impactful outcomes for both REXUS and LENSES projects and beyond.